Welcome to the webpage of Patrick Corbett.
"Geopoetrick" is an amalgamation of geology, poetry and Patrick.
With a nod to the Borders poet "The Ettrick Shepherd", this Geopoetrick website has poetry at its heart.



Patrick was born in Woking Surrey (1956) and his family moved to Worth Matravers, Dorset, where he grew up and went to nearby Swanage Grammar School.

Living on the Jurassic Coast helped develop in him a love of geology and he read the subject at Exeter University (1974-77). With a subsequent master's degree at University College London, he moved into the oil industry where he worked as a geologist until 1988 for US company, Unocal, in UK, Netherlands and Indonesia.
Returning to Scotland to do a doctorate at Heriot-Watt University and completing in 1993, he stayed on in various academic positions in Heriot-Watt until today, where he enjoys partial retirement.

Picking up poetry as a form of communication since stepping back from some of his academic responsibilities, he has developed a deep interest in poetry related to geology and the broader sciences. He is always keen to share his passion and in March 2020, the Edinburgh Science Festival, shared some of his geological poems.

You can read four of his poems on this theme, and listen to videos of his notes on the poems, here. He has also written articles on geopoetry and geopoetics for the Edinburgh Geologist and the Geoscientist. He chaired the organising committee for Geopoetry 2020 held online on National Poetry Day, 1 October 2020 and is editing a volume on Geopoetry and Geopoetics to be published by the Edinburgh Geological Society some time in 2021.

He has been a Governor of the University and serves on the boards of the Scottish Energy Forum and the Scottish Poetry Library. He is a Fellow of the Royal Society of Edinburgh. He is on the Council of the Scottish Centre for Geopoetics and Treasurer to the School of Poets. The latter is a group that used to meet monthly in the Scottish Poetry Library to encourage people in their poetry writing and now hosts online meetings with the same purpose.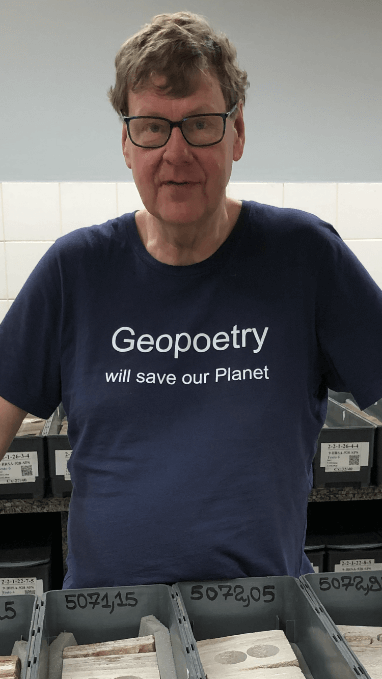 James Hogg was a Scottish poet, novelist and essayist who wrote in both Scots and English. A self-educated shepherd and farmhand, he became a friend of many of the great writers of his day, including Sir Walter Scott (he later wrote an unauthorized biography of Scott). He became widely known as the "Ettrick Shepherd" a nickname under which some of his works were published.
See "The Ettrick Shepherd", Wikipedia and "James Hogg" in Undiscovered Scotland